Even though walking isn't seen as the most intense physical exercise, it can still effect your joints in your feet and legs if the wrong footwear is worn. The right running or hiking shoes can are so important when it comes to keeping you comfortable and safe on your walks, and often a pair of insoles will be needed to add some extra support and cushioning. Choosing between the multitude of shoe insoles on the market can be so hard, but with being insole manufacturers in the UK, our specialist shoe professionals at www.shoestringuk.com are here to help.

When selecting a pair of insoles for walking, you'll usually want to focus on shock absorption, comfort/cushioning, support and breathability. When choosing the right insoles for you, it is very important that consider a few things before making your decision. It will depend on the type of terrain you'll be walking on, as well as any previous injuries or pains you have suffered in the past. For example, if you're walking on firm ground, cushioning and shock absorption is key, and if you're prone to tripping or rolling your ankle, an insole that provides added stability will be extremely beneficial.

With this in mind, we'd like to help you choose the best insoles for Walking chosen by our experts at ShoeString:
These are our number 1 all rounder hiking and walking insoles. They are made in Germany by Woly with the highest level of technology to support your feet, joints and legs whilst wearing your shoes. These insoles have incredible odour stop technology and a hygienic molded footbed with silver threads to make the best ever odour control insole money can buy! Visit the product page here.
Odour Preventing – odour stopping technology – NUMBER 1 WINNER
Shoestring odour stop insoles, destroy odours on your feet and in your shoes. These insoles are a perfect choice for sports shoes, hiking, walking and endurance. Shoestring odour stop insoles have incorporated charcoal into the insole which absorbs and traps odours. The soft latex layer gives the comfort you would expect from any of our shoestring insoles, in addition to the benefits already mentioned these insoles are scented, instantly improving the smell of your favourite shoes. View the product in more detail here.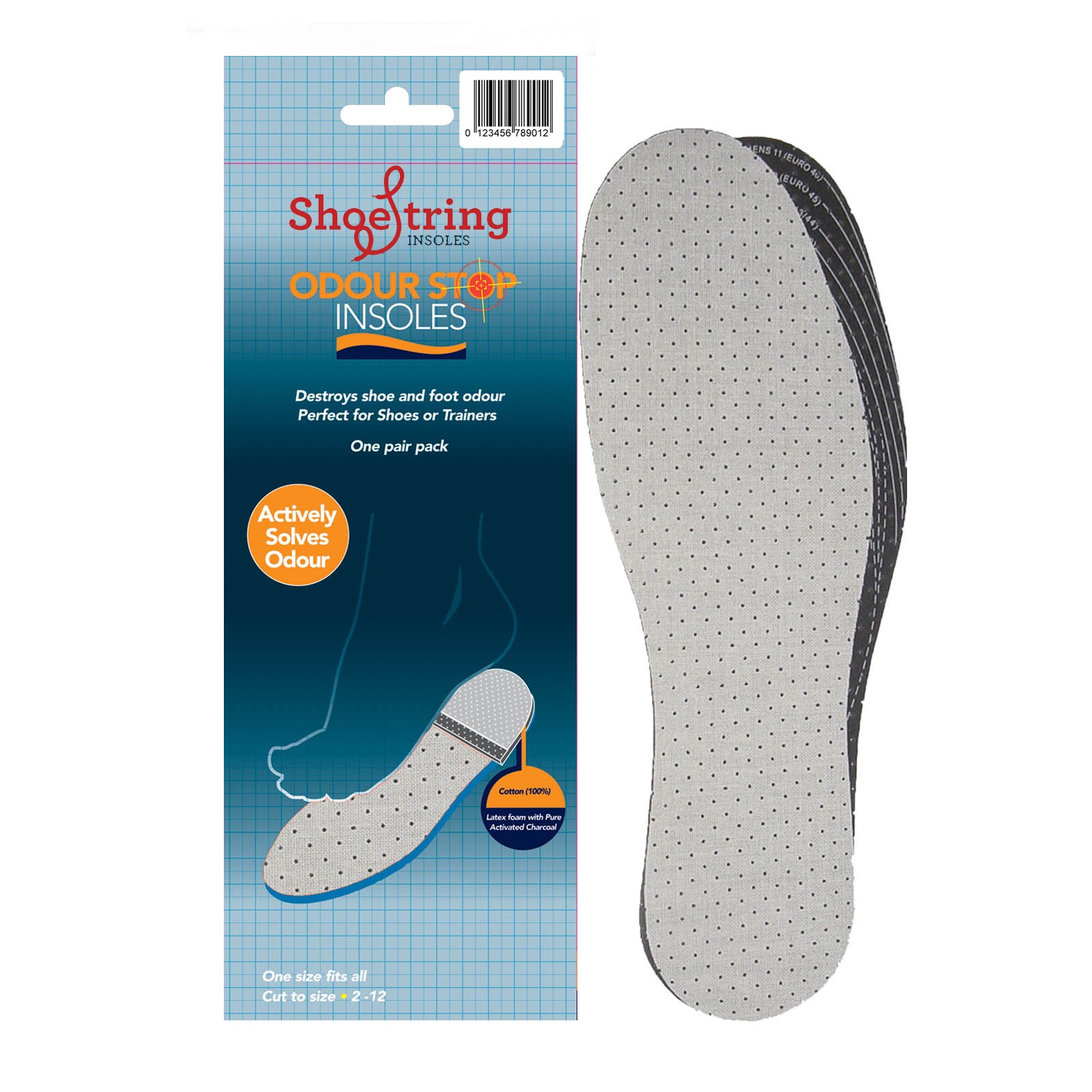 Memory Foam Shoe Inserts – offering structural support – NUMBER 1 WINNER
Shoestring memory foam insoles for shoes and boots are 3 layers of pure comfort! Memory foam insoles offer structural support for shoes, whatever footwear you choose.
Shoestring memory foam insoles have a dense back and a fabric top, sandwiching a micro bubble foam. These 3 layers give unapparelled shock absorptionwhich is perfect for when you're walking a lot, hiking or doing high impact work or sport. The structural support offered by these shoestring memory foam insoles reduce shock transferred to the legs and joints from every day endurance.
Shoestring memory foam insoles mold to your feet. Offering extreme comfort by supporting the whole of your foot.
View the product in more detail here.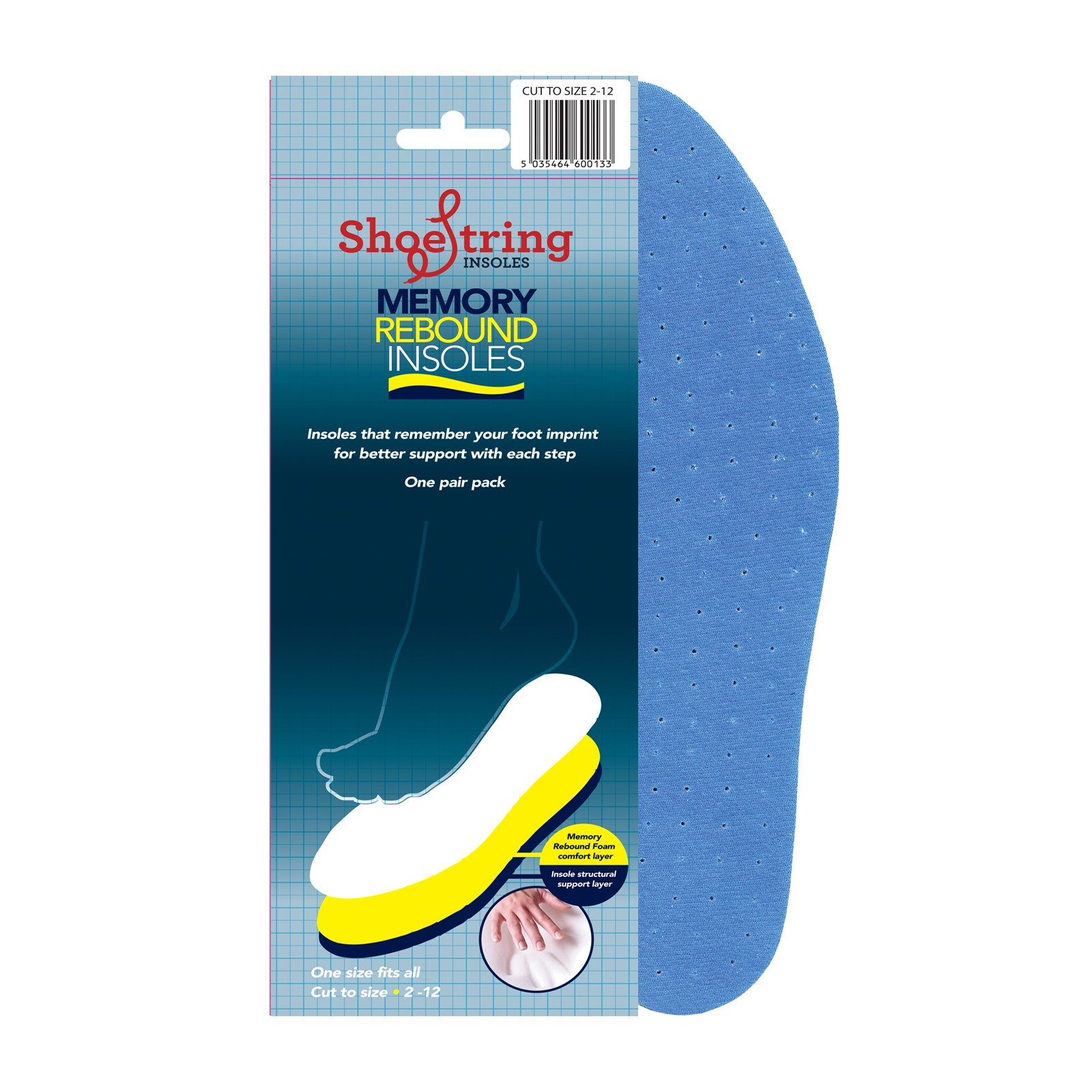 Thermal Insoles – for the cold weather – NUMBER 1 WINNER
Woly Astrotherm Insoles are an extra warm fleece insole, with an added aluminum layer for maximum protection against the cold. Astrotherm are made up of three layers for optimum results and comfort:
Top Layer: Soft Fleece with wool for warm and snug feet 
Intermediate Layer: Soft cushioned layer for added comfortability 
Bottom Layer: Aluminum bottom layer to retract the cold and keep shoes warm. 
They also have an anti-slip coating for firm support and stability within the shoes.
What Benefits Do Woly Astrotherm Insoles Offer?
Astrotherm insoles are a highly effective, warm insole and a great protector from the cold. They not only keep feet warm, but they also detract the cold weather meaning your feet are always at a comfortable temperature. Below we have listed some great benefits to these insoles:
– 3 individual layers which all work together for maximum results 
– Keep feet warm and snug, even in the coldest temperatures
– Brilliant for work boots which need insulation 
– Aluminium to detract the cold 
– Excellent value
– Highly durable
View the product details here.
Watch in browser here.
ShoeString are one of the few UK insole/shoe insert manufacturers in the UK offering private label and fast production using the highest quality materials. To enquire please email sales@shoestringuk.com or call 01858-467-467. 
Published 1st June 2021