Essential Leather Cleaning and Leather Repair Kits
Although it may seem like a boring subject, we all know that we need to treat and polish our shoes regularly. Therefore we have come up with some our or favourite leather cleaning and repair kits for you to take home or send to someone as a gift! As always we're ranging these kits from luxury to everyday so you make your own choice! Don't forget to let us know your thoughts on your favourite's  in the comments below!
This kit includes:
1x Sponge to clean the leather
1x Neutral Woly Cream Polish
2x Brushes for buffing the shoe
1 x Polishing cloth for the perfect shine
1x pocket sized shoe horn
Cost: £12.95
This Barrel kit was originally made for the all of those people in the cadets or the army so they have everything they need to get a high shine on those black boots.
1 x 16g Black tin polish

1 x 16g Neutral tin polish

1 x 9cm stiff bristle cleaning brush

1 x 10cm Polish applicator brush

1 x 10.5cm curved black plastic shoe horn

1 x 23cm x 10cm yellow polishing cloth
Cost: £14.98
Tip: If you're looking for Kiwi, they also have one too! Cost: £15.03. Linked here.
Famaco infuses luxury and tradition with their stunning range of Shoe Care Kits. With indisputable quality products and incredible results, this 5 Product Assortment takes pride of place in only the best shoe shops and repairers.
This leather cleaning kit includes:
1x Nubuck and Suede Cleaning Spray
1x Black Famaco Cream Polish
1x Neutral Famaco Cream Polish
2x Application Brushes
1x Pocket Shoe Horn
Cost: £55.03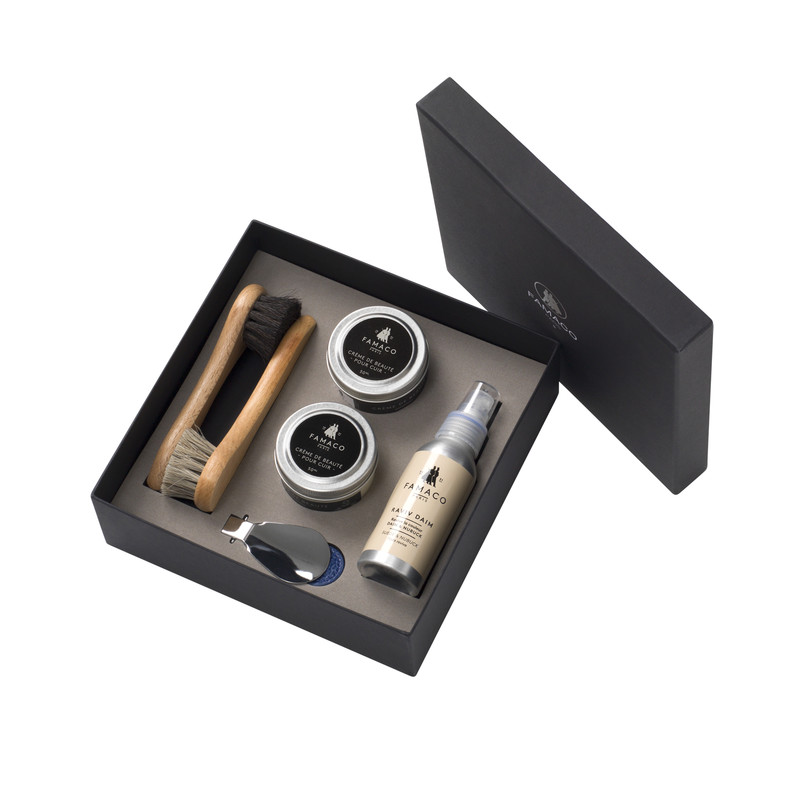 This Shoe care kit is our favourite for corporate gifting and also an essential for the home.
What's inside:
2 x Polishing cloths
1 x Black Polish
1 x Neutral Polish
2 x Application Brushes
1 x Horsehair Brush
1 x Universal cleaner (An essential for cleaning any type of shoe!)
What's more is that this kit comes in a beautiful wooden box with a shoe cleaning stand and drawer.
Cost: £180.00 
If you have any questions on these kits, give us a shout! We'd love to hear which products you prefer!
Thanks for reading.
ShoeString
Published 11th March 2021