Description
The Original Copper Heeler ~ Arthritis Relief
Copper Heelers target the pains which are linked with copper deficiencies, such as rheumatic aches and pains - including arthritis. The simple, easy to use Copper Heeler has transformed lives and are a highly effective, natural way of reducing symptoms. With hundreds upon hundreds of positive testimonials, they are now being examined by the National Health Service and may one day be available on the NHS.
What Benefits Do Copper Heelers Offer?
Copper Heelers are revolutionary and it is no exaggeration when we say that they have transformed lives. Arthritis is the UK's biggest, single form of physical disability and affects over 9 million people of all ages every year. Copper is an essential trace mineral which is present in all body tissues. Copper, along with iron helps in the formation of red blood cells, and helps in keeping with blood vessels, immune system and healthy bones and has also been used for thousands of years to treat wounds and more recently, prevent inflammation.
- Reduces symptoms of Arthritis
- Reduced inflammation in joints
- Relieves pain
- Natural material which has been used for thousands of years
- Natural remedy for pain and inflammation
- Easy to use and easily transferable in shoes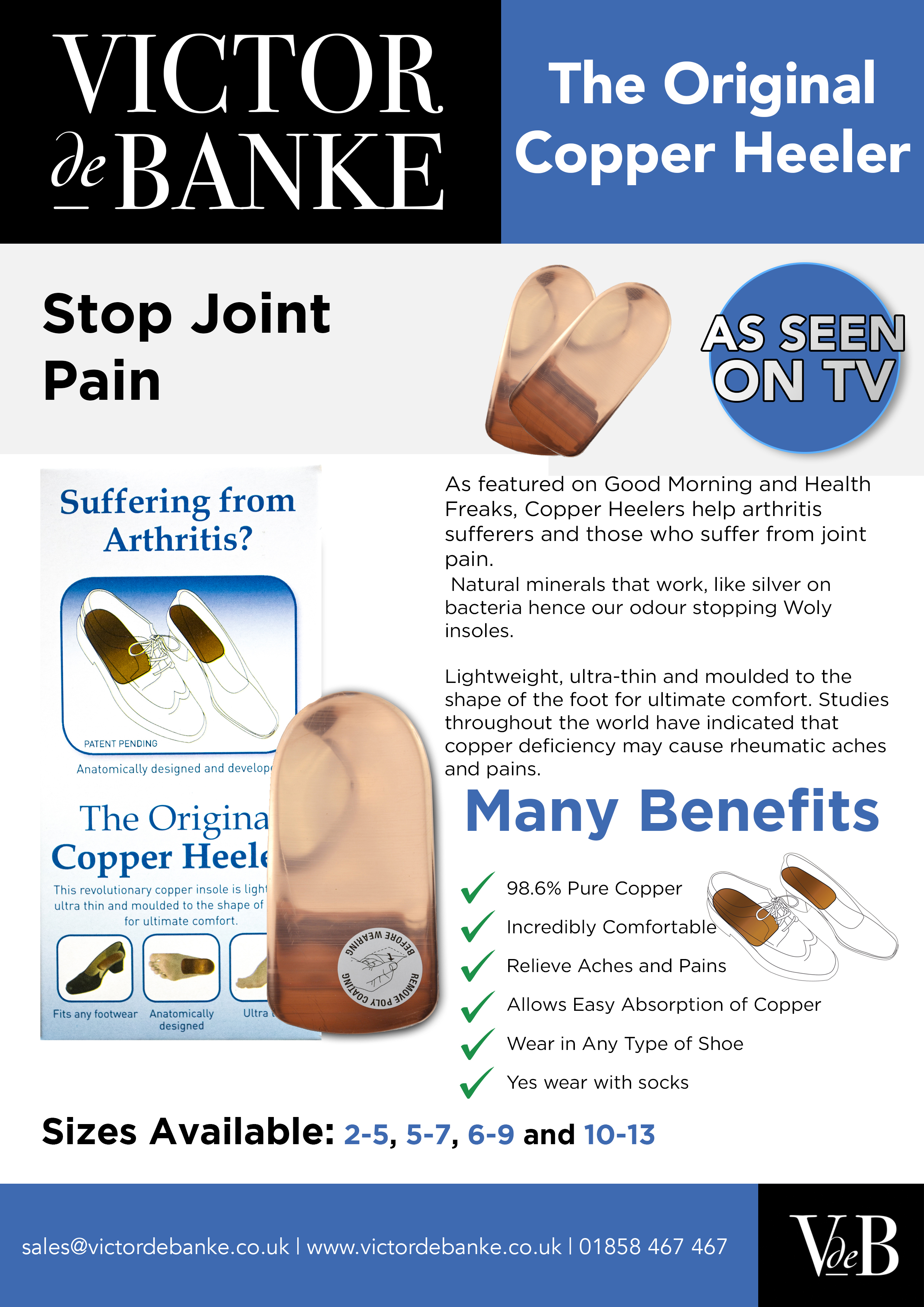 Who Should Wear Copper Heeler Insoles?
Copper heelers targets pain, swelling, stiffness and difficulty in moving joints which are all symptoms of Arthritis. (Please consult doctor for diagnosis) Being ultra thin, anatomically shaped and can easily be used in any footwear, and for any sized shoe, they are a comfortable insert which have miraculous results.
- All ages/All shoe sizes
- All severities of pain (mild - severe)
- Comfortable insert which can easily be transferred to other footwear
- Incredible results and amazing testimonials by real people
''After wearing them for only a few days, I was overjoyed with the results and couldn't believe the difference they made. I now feel many years younger and am able to ascend and descend stairs once again, instead of one foot at a time, like I used too.''